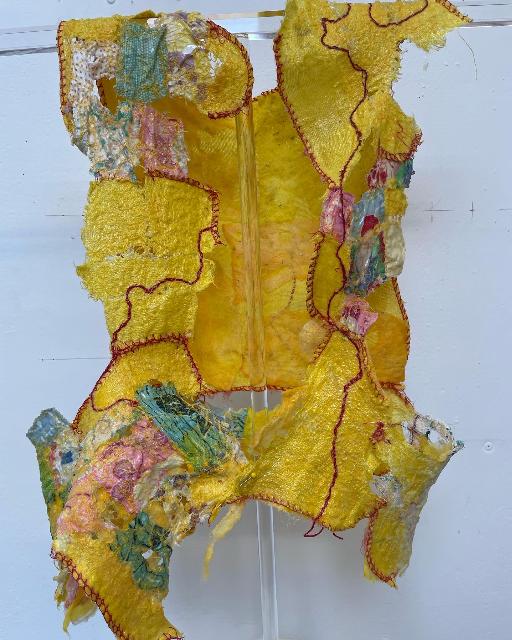 Maps, aerial photography and local stories continue to inform my work. Recent textile pieces have been inspired by the reclaimed landscape of the fens and the dramatic effect of the 1953 flood.
I am also interested in the psychological associations of cloth and the role clothes play in identity which is evident in the project; childhood holidays in France.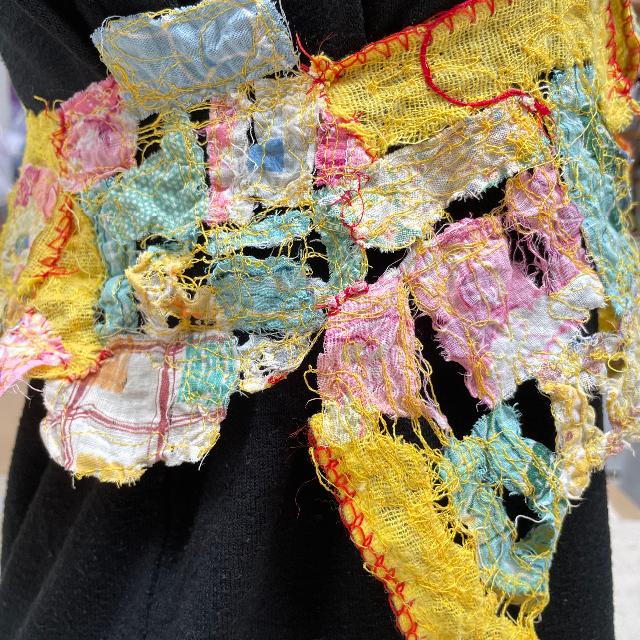 The yellow garment attempts to show the effects of flood using dusters (a reference to make do and mend still relevant in 1953) and fragments of vintage fabrics. These have been sewn onto soluble fabric then dissolved, the red threads suggest roads and routes to escape rising water.
The fen piece incorporates a 1658 map (which is printed onto fabric) showing the drainage of the fens and is overlaid with hand dyed squares from a vintage quilt to suggest the changing landscape.
The childhood holidays piece uses items of children's clothes from a French flea market and an old Michelin map of France. Again the maps are printed onto fabric, dyed, then fused together with an embellisher onto blankets.
Coastal Erosion
The coastal work is inspired by aerial photography documenting changes of the last 20 years and visits to Happisburgh, Waxham and Winterton on the coast of East Anglia where the speed of erosion is clearly evident. Sea defences have been destroyed and breached, roads and buildings that were close to the cliffs twenty years ago no longer exist.
The Five coastal strips suggest erosion over a period of time and are read from left to right as the sea and tides eat away at the land until the original coast has almost vanished.
I use an embellisher to fuse together recycled natural materials which are hand dyed. Areas are hand stitched to suggest texture of land and beach. I also incorporate fabrics which are frayed and distressed to demonstrate the fragility and changing nature of the coast.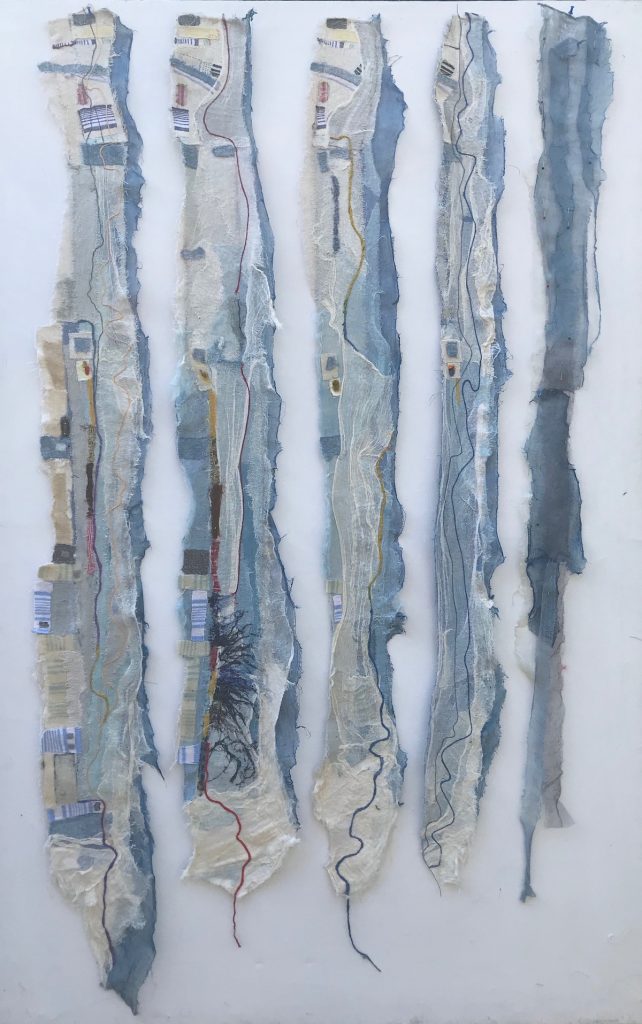 Exhibitions
Fishy Tales (a collaborative project), Festival of Quilts, NEC Birmingham, August 2023
Cambridge Open Studios, July 2023
Sense of Place, Aldeburgh Gallery, May 2023
Ebb and Flow, Babylon Gallery Ely, November 2022
Cambridge Open Studios, July 2022
Stories in Stich, textiles2020. Espacio Gallery, London, April 2022
textiles2020: the show, Espacio Gallery, London, December 2020
Sewn Antidote. Contributed to a collaborative textile artwork on reflections to the first lockdown of the COVID pandemic conceived and stitched together by Lara Hailey. Accepted as part of the Victoria and Albert Museum's textile collection 2020
In Transition, Group Show, City Lit, Feb-March 2020
Construction Sites, Group Show, City Lit, July 2019
Instagram: @veronicathornton99
Website: www.veronicathornton.com/