I attended a workshop with Alice Fox not long after she had completed her residency on Spurn Point, and was intrigued by the landscape. After personal research I started to discover the history of this small spit of land and became absolutely fascinated. I visited Spurn for the first time some four years ago, and have since been drawn deeper and deeper into the lives of the people who once lived there.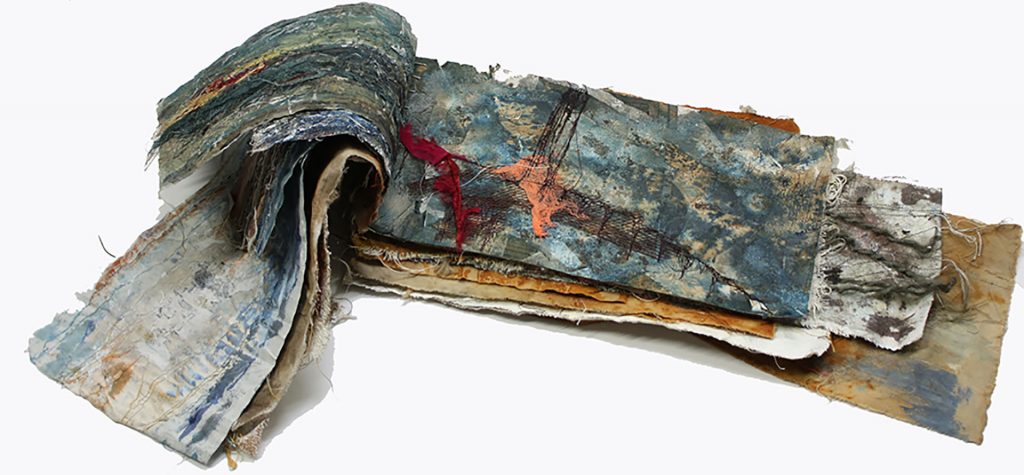 My two large pieces for the exhibition are, again, around the lives and land of Spurn Point. The first is a hanging showing the shadow of the land from above with small pieces of fabric floating in the air instead of the sea.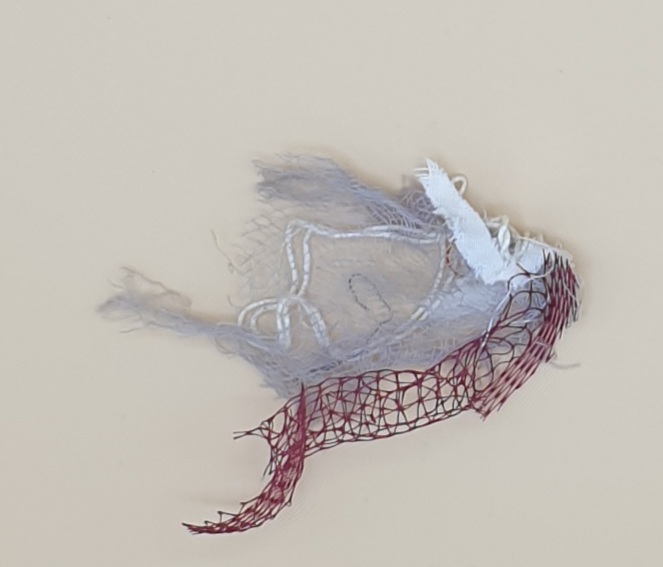 The second is a large "page" from my book – a collage of fabric, paper and mixed media.
I have also made bags for the other five sailors lost on the Brig Emma. The story of their loss, which sometimes overwhelms me, is told in a small accompanying book.
Exhibitions
Warped, PRISM, The Art Pavilion, London. April/May 2023
Piece by Piece, CityLit Art Gallery, February 2023
A Letter in Mind: A Sense of Movement. The National Brain Appeal, Gallery Different, London, November 2022
Stories in Stich, textiles2020. Espacio Gallery, London, April 2022
Untold Stories, Prism Textiles, The Art Pavilion, London, March 2022
Royal Academy Summer Exhibition, Piccadilly, London, September 2021-January 2022
A Letter in Mind, The National Brain Appeal, London, November 2021
Printmakers' Council Archive, work included in the permanent collection at the Scarborough Museums Trust, 2021
Sewn Antidote, 2020. Contributed to a collaborative textile artwork on reflections to the first lockdown of the COVID pandemic. Accepted as part of the Victoria and Albert Museum's textile collection
textiles2020: the show, Espacio Gallery, London, December 2020
In Transition, CityLit Gallery, Covent Garden, London, February-March 2020
Construction Sites, CityLit, Covent Garden, London, July 2019
Woolwich Contemporary Print Fair, Arsenal, London, November 2019
London Print Studio Summer Show, Kilburn, London, July 2019
Meanwhile, R K Burt Gallery, London, July 2019
Woolwich Contemporary Print Fair, Arsenal, London, October 2018
London Print Studio Summer Show, Kilburn, London, July 2018
Pressing Time, R K Burt, London, June 2018
CLFA Final Show, Espacio Gallery, London, July 2017
Stuff of Life, Whitehouse Arts, Cambridge, November 2015
Modern Marquetry, Portico Library, Manchester; solo exhibition, March 1976
Marquetry, Lantern Gallery, Manchester; solo exhibition, October 1975
Member, Prism
Member, Printmakers Council
Member, Designer Bookbinders
Member, Society of Bookbinders
Instagram: @patti.taylor44
Website: www.patti-taylor.co.uk