I'm a London-based artist and maker. Over the years I've studied printmaking, sculpture, painting and life drawing, ceramics, and basket making before discovering textiles.
Working in mixed media opens up a world of possibilities, particularly when combining textiles with basketry techniques – which often involve warps and wefts, and coiling is essentially stitching.
Drawing underpins all my work, and I enjoy experimenting and the physical process of making. I like to work in three dimensions and I'm fascinated to see how fabric can be manipulated.
My approach to making can be quite playful, for example in these faux chenille forms with hand-felted linings.
And I often make things with a hairy texture. This blue brush is made of sewing thread with a handle of contorted hazel.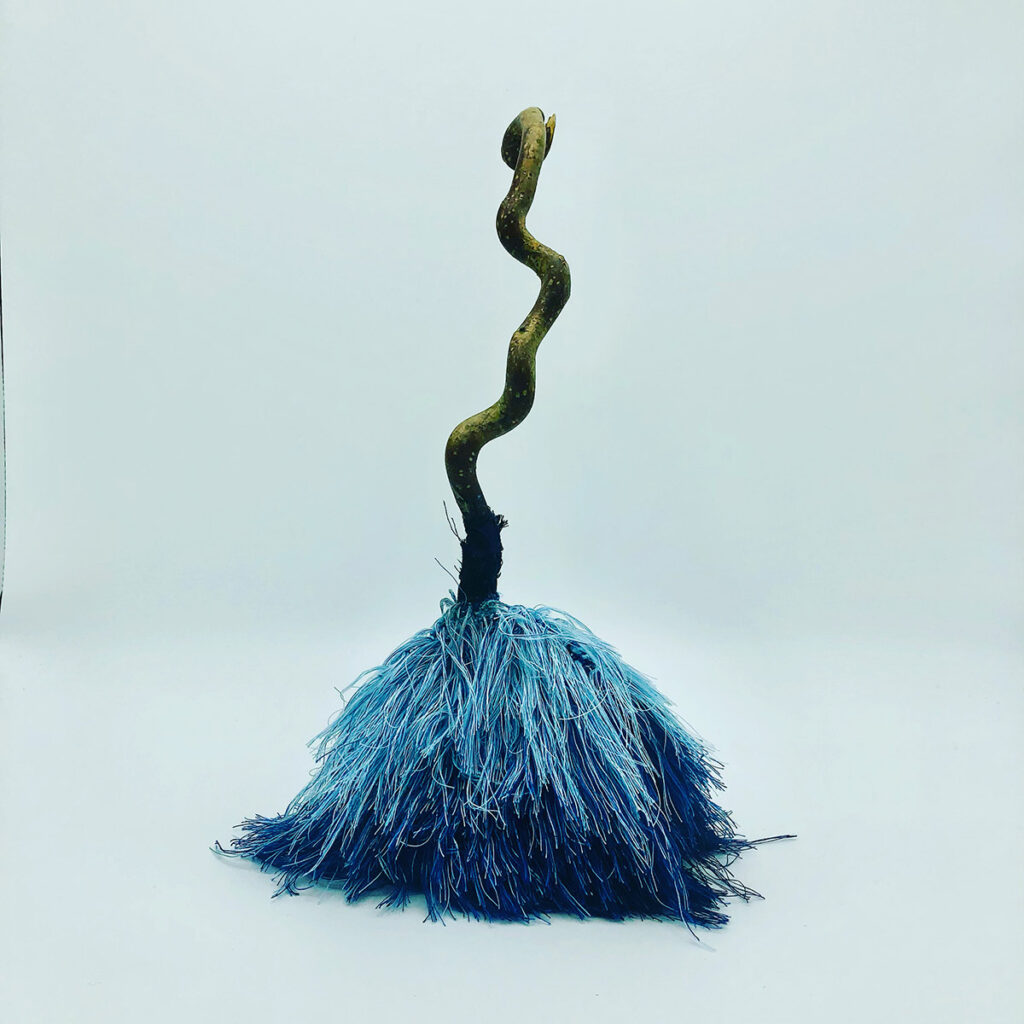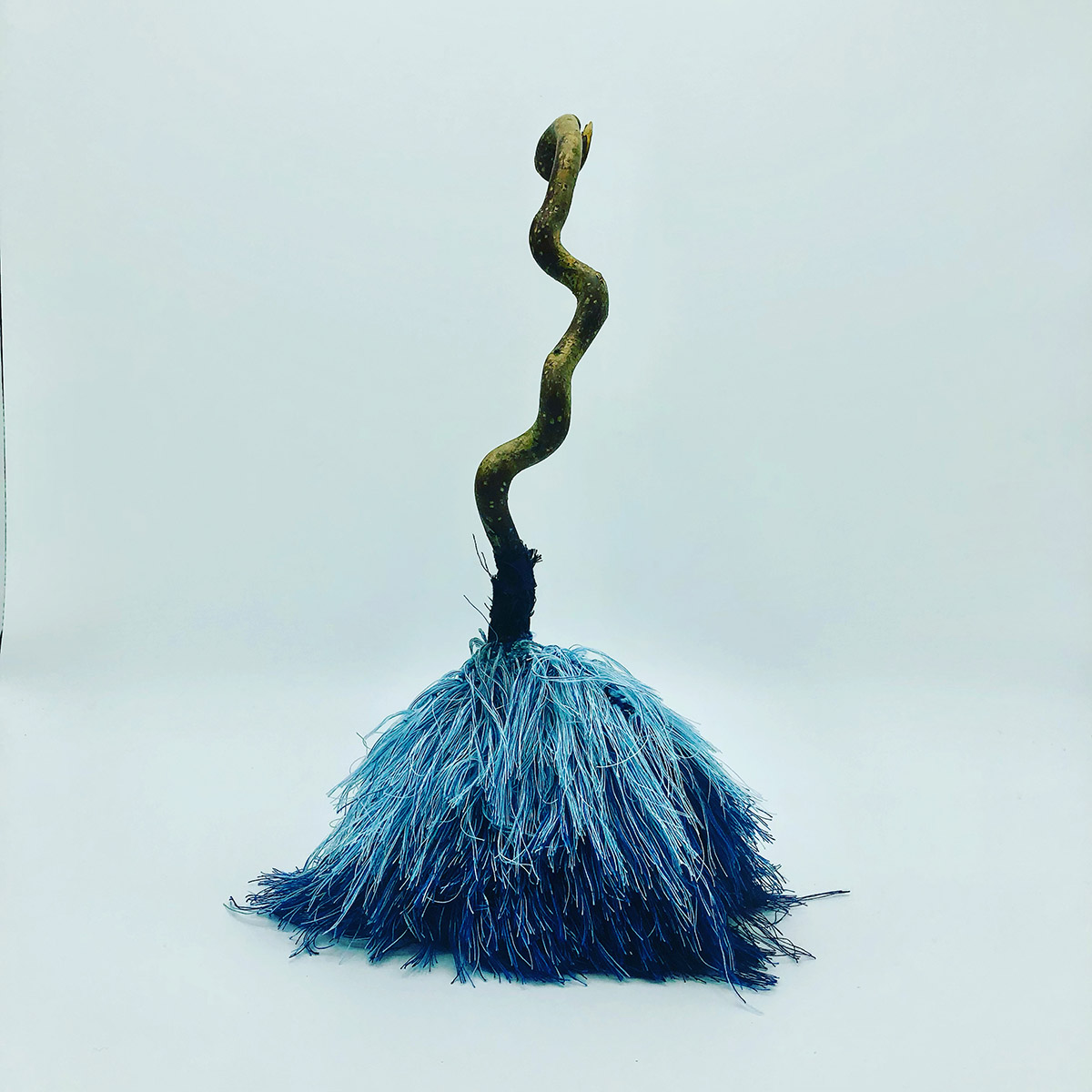 Like many artists and makers, my work is affected by personal circumstances and I also take inspiration from research done in museums, particularly for basketry, and have an underlying fascination with all things medical.
Over the past couple of years the loss of my husband in 2020 has had an influence on my work, starting with large, vividly coloured faux chenille wall hangings, called 'Raw' – which was how I felt at the time.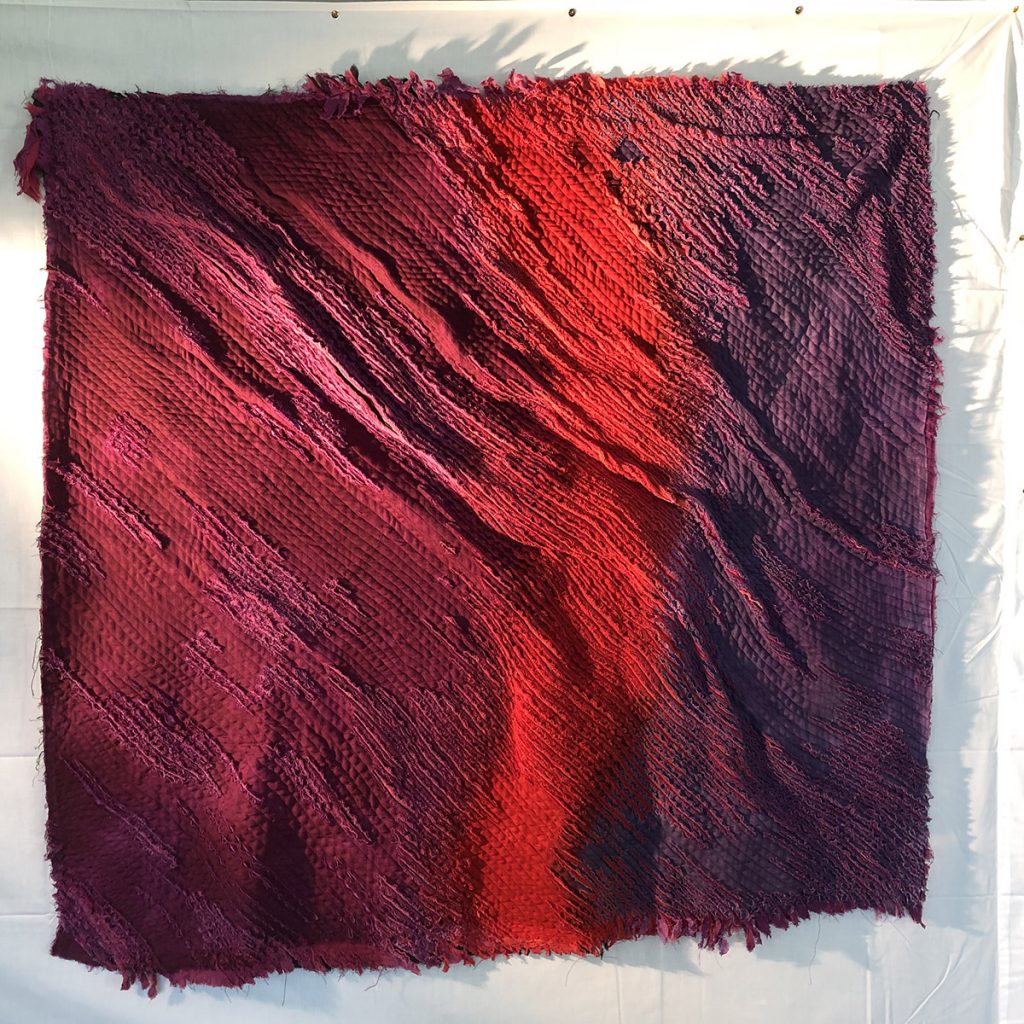 In 2022 I made a series of broken vessels, from of muslin and scrim, which represented a feeling of being incomplete, but also of the human spirit's potential to mend, hence the reference to the Japanese art of Kintsugi. See Stories in Stitch page for the full series.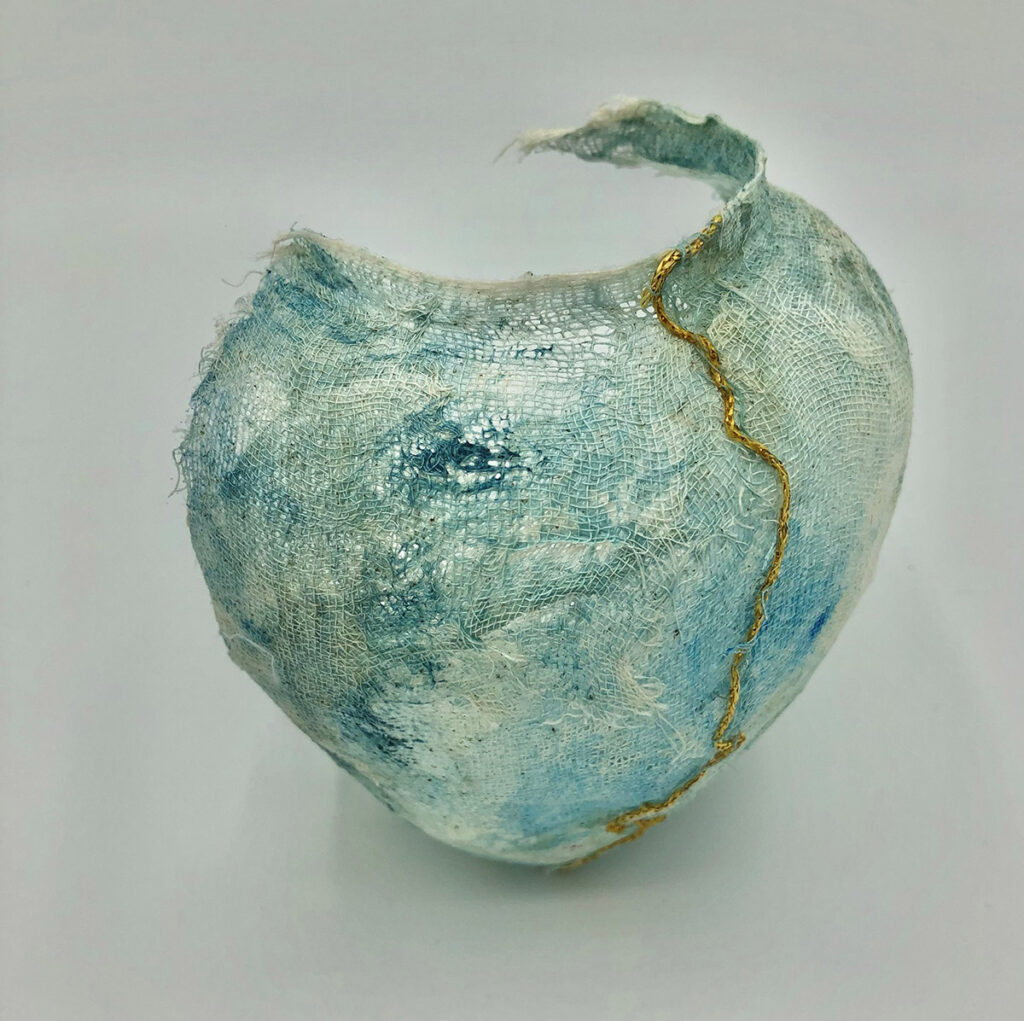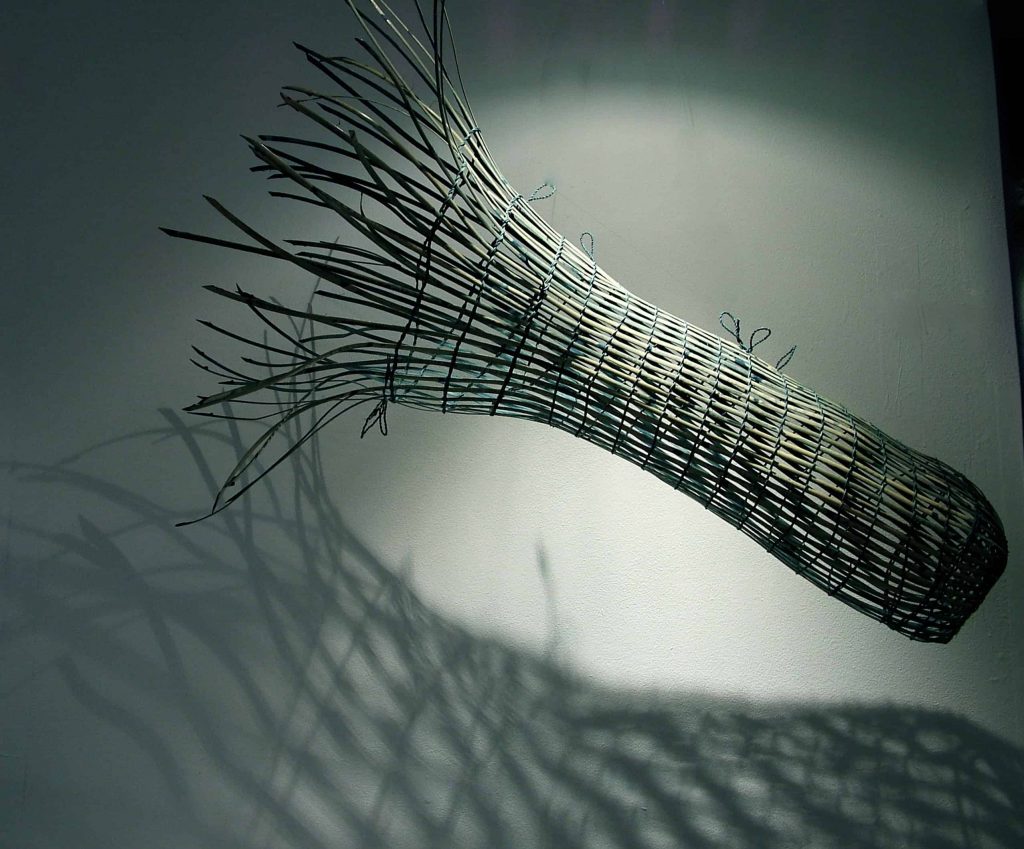 My mother's memory loss through dementia inspired an earlier series looking at fragility, and of the container versus the content.
Exhibitions
Fishy Tales (a collaborative project), Festival of Quilts, NEC Birmingham, August 2023
Collateral (see 2022) also exhibited in Cotton: labour, land and body, Crafts Council Gallery, 2022-23
Stories in Stich, textiles2020. Espacio Gallery, London, April 2022
British Textile Biennial 2021, stitch your story installation, Blackburn Cathedral, October 2021
Collateral, British Textiles Biennial 2021 (contribution to Brigid McLeer's installation) Queen Street Mill, Lancashire, 2021
The Festival of Quilts, NEC Birmingham, 29 July-1 August 2021
textiles2020: the show, Espacio Gallery, London, December 2020
In Transition, Group Show, City Lit, Feb-March 2020
Construction Sites, Group Show, City Lit, July 2019
FLOW exhibition, River & Rowing Museum, Henley on Thames, July 2014
Open Studio, Palmers Green and Southgate Art Trail, June 2014
Basketry Nation Group Show, Kingsgate Studios, July 2012
'Inspired By' (finalist in annual art competition), Victoria & Albert Museum, London, October 2011
Basketry Arts: Useful & Beautiful, The Apricot Gallery, September 2011
Over, Under and Out, City Lit Part 2 final show, July 2011
Basketry, Hastings Gallery, 2010
Unwrapped, City Lit Part 1 final show, July 2009
Member: North London Stitch and Textiles
Member: Basket Makers' Association
Member: London Basketry Group
Follow me on Instagram: @hollingsworth.kathryn