I am passionate about textil
I am passionate about textiles to create texture and surprise through form, stitch and colour. My creative practice focuses on finding stories in history to inspire. Working with documents of the time and extensive research supports much of my textile exploration. I often reference traditional and historical techniques from the domestic setting; preferring the techniques that arose in the home to those that were practised in high society or courts.
I work with a range of textile processes including stitch, embellishment and fabric manipulation. Currently my artwork often uses clusters as the form to provide a showcase for the stitch or technique. On a form, the stitch can be seen in all its glory and I use these traditional stitches in an experimental and often humorous way.
Many Hands Make Light Work, 2020-1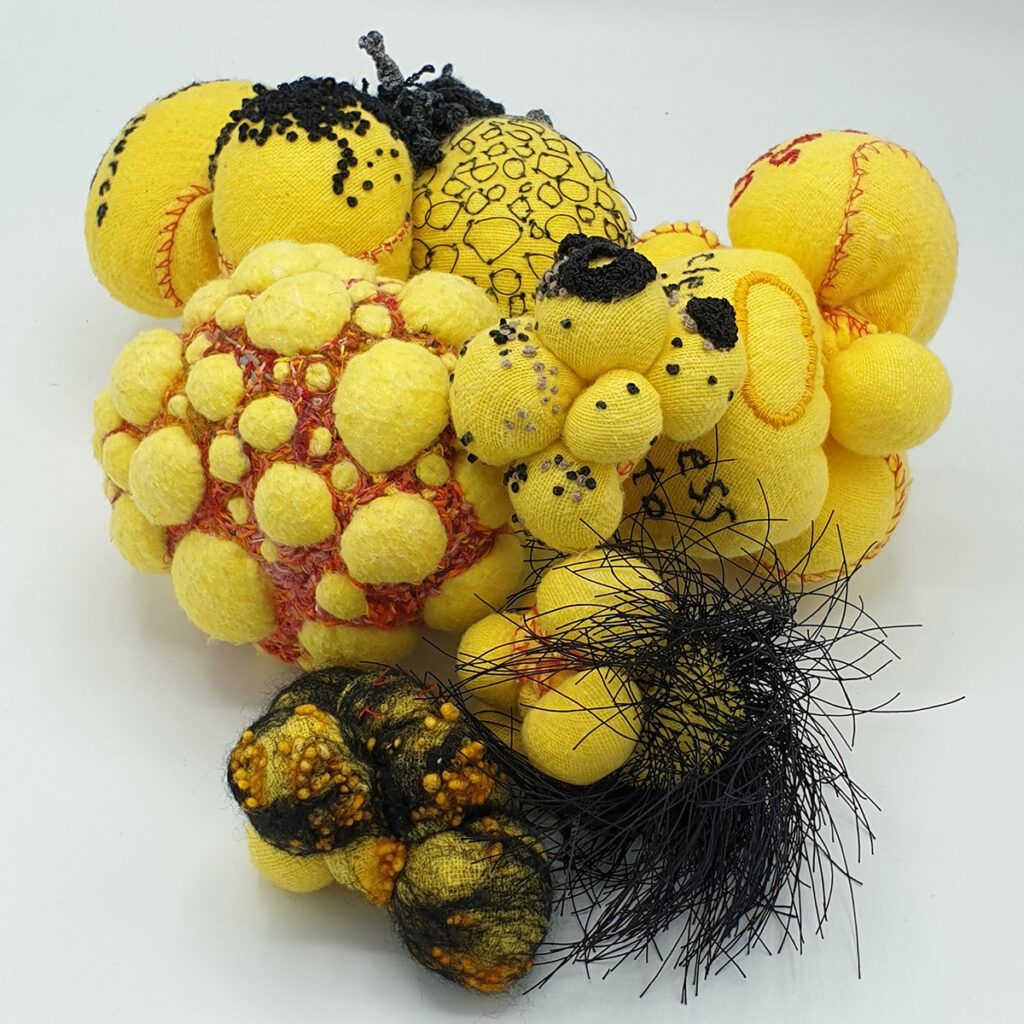 These clusters use textiles found in the kitchen, making something beautiful from items that are not normally considered for their aesthetic value. I enjoy the reaction to my work – sometimes a smile, more often peering at them with faint distaste as the stitches remind them of something unsanitary or mildly off-putting.
The glorification of the domestic textile and the home-setting seems particularly relevant now, as we live through the pandemic.
Rachel is a member of the Society for Embroidered Work and is keen to promote the message that Stitched Art is Art.
Exhibitions and Collaborations
Stories in Stich, textiles2020. Espacio Gallery, London, April 2022
Surface and Depth – The Society for Embroidered Work exhibition for Rome Art Week 2021, Palazzo Velli Expo, Rome, October 2021
textiles2020: the show. Espacio Gallery, London, December 2020
Sewn Antidote, 2020. Contributed to a collaborative textile artwork on reflections to the first lockdown of the COVID pandemic. Accepted as part of the Victoria and Albert Museum's textile collection, In Transition, Group Show, CityLit, February-March 2020
Construction Sites, Group Show, CityLit, July 2019
Instagram: @rachelgillardjones