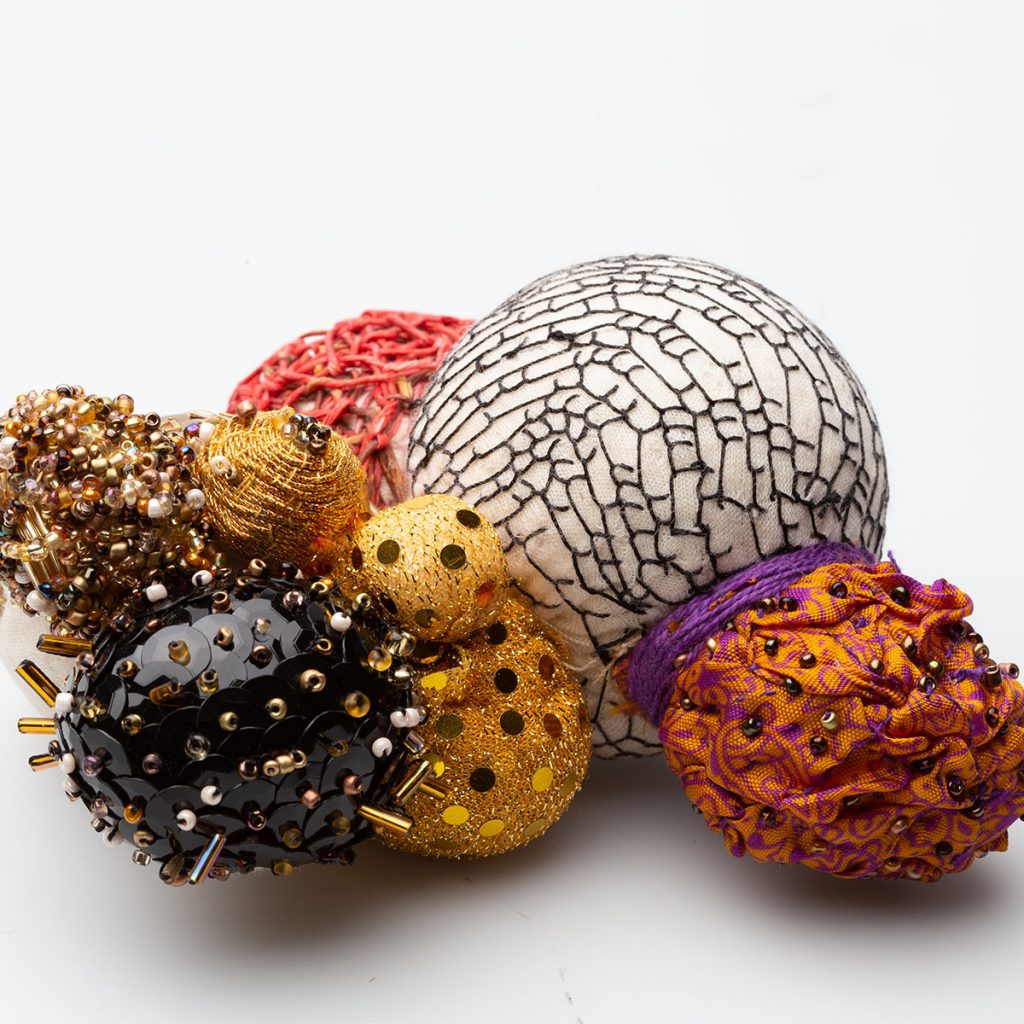 I am passionate about textiles to create texture and surprise through form, stitch and colour. My creative practice focuses on finding stories in history to inspire. Working with documents of the time and extensive research supports much of my textile exploration. I often reference traditional and historical techniques from the domestic setting, preferring the techniques that arose in the home.
For the group's exhibition 'Worn' in October 2023, I am exploring bacterial forms and diseases inspired by reading a Ministry of Health pamphlet on keeping healthy in WW2.
I work with a range of textile processes including stitch, embellishment and fabric manipulation. My artwork often uses clusters or soft sculpture as the form to provide a showcase for the stitch or technique. On a form, the stitch can be seen in all its glory and I use these traditional stitches in an experimental and often humorous way.
Kathleen
Reading a wartime diary of a young mum-to-be called Kathleen was the inspiration for the following artworks. Her commentary on global events together with her wry observations on friends and family provided Rachel a rich insight into what was "normal life" for Kathleen in 1943 as well as providing glimpses of the hardships and the toll a lengthy war was taking on her, her loved ones and neighbours.
A common theme throughout the diary was securing food and using rations optimally. The thoughts Kathleen recorded on Saturday 9 January 1943 were:
Visit W.V.S. Took pullover, wool for mittens and gloves. No luck at Bodenhams for dress or suit. G&I shared an egg – first we've had for months. News of Gary's Auntie Ethel's dog dying.
G & I shared an egg. Repurposed domestic textiles with mixed threads, 19 x 15 cm.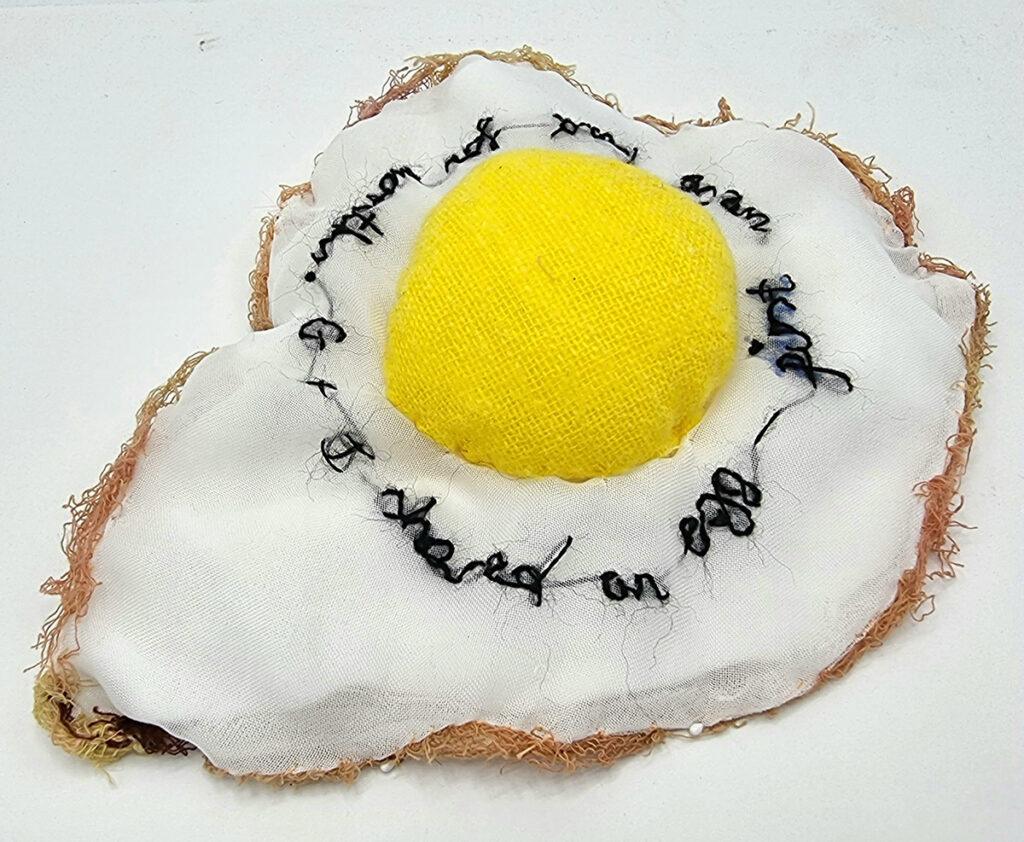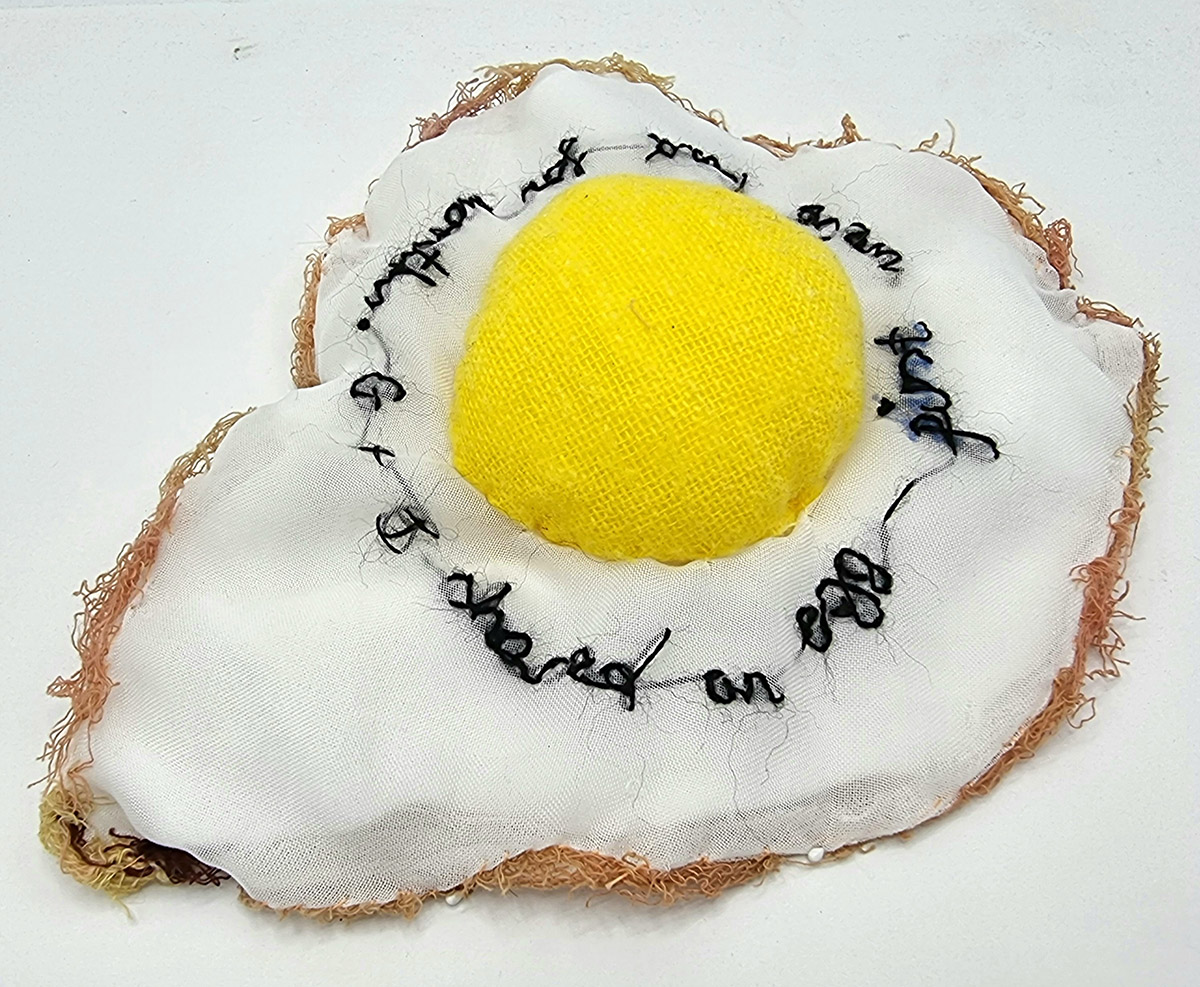 Reel 2021-2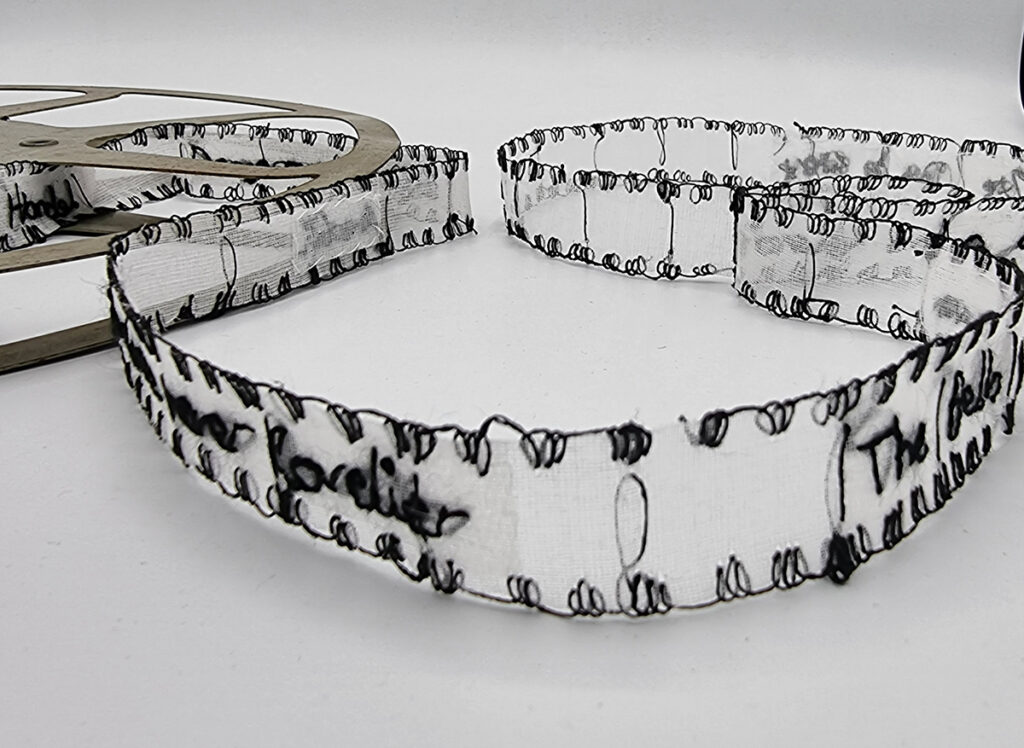 Kathleen enjoyed a lively social life as befits a young just-married woman with regular visits to the cinema and attending musical concerts. She met up frequently with friends and family whilst also ensuring she "did her bit" with the W.V.S. and being on duty as a firewatcher at night. Reel records the films that Kathleen saw during 1943 – a mixture of Allied propaganda and romantic wartime stories. Bambi was also released in 1943. The day that Kathleen saw Bambi was Thursday 11 March – her birthday. Here are her jottings of the day.
Birthday – letter from Percy. Book token: Rita. Powder: Mrs N. Book: G. Money: Mother. Recipes: Marjorie. Flowers from G. Not an exciting day. Saw Bambi.
Many Hands Make Light Work, 2020-2021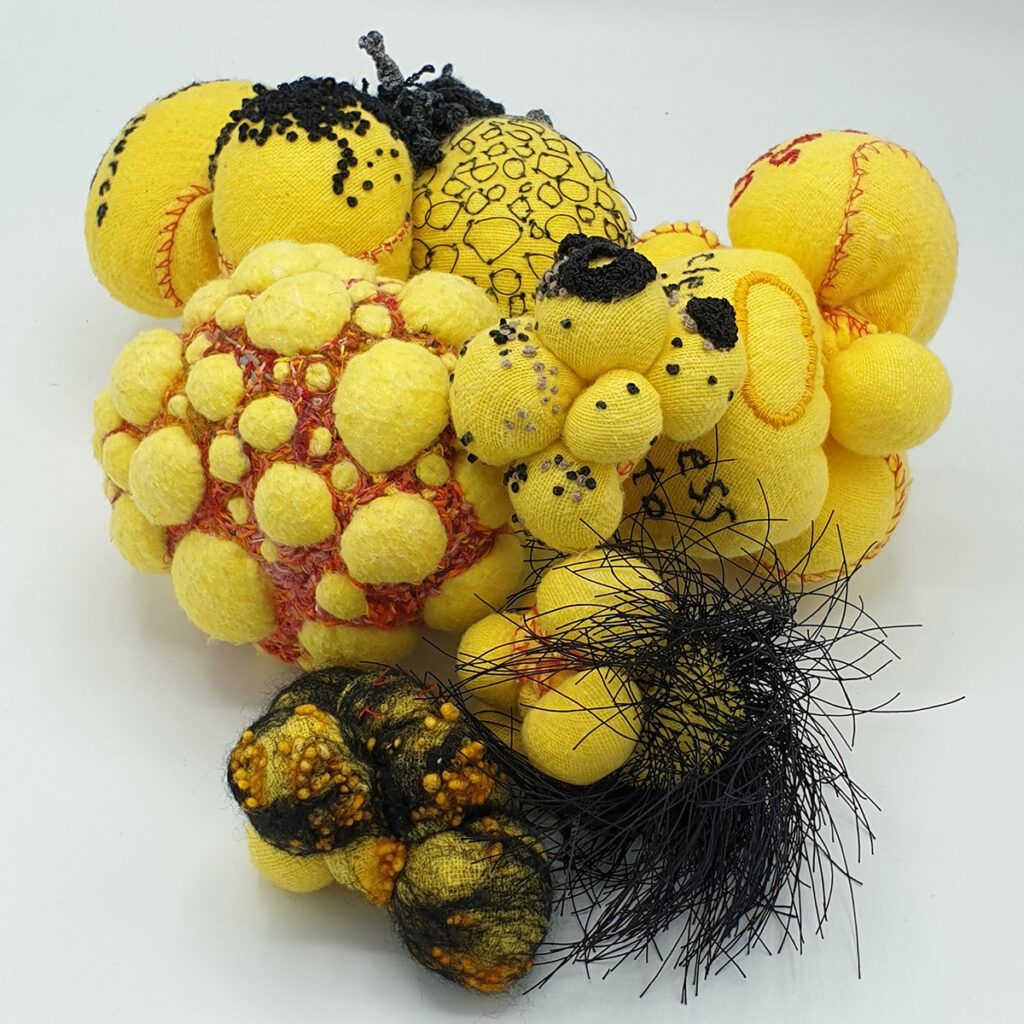 These clusters use textiles found in the kitchen, making something beautiful from items that are not normally considered for their aesthetic value. I enjoy the reaction to my work – sometimes a smile, more often peering at them with faint distaste as the stitches remind them of something unsanitary or mildly off-putting.
Sampler on ticking, 2020
I am influenced by the UK's rich history of samplers, in particular those from the 19th century. A sampler is a practical way of practising stitch but with research, I discovered that samplers portrayed two different worlds: depending on your class, a sampler was a way to pass the time in a genteel manner and to demonstrate your technical prowess; or for others to demonstrate a skill to gain employment in domestic service. For both classes, a sampler was a tangible record of the techniques they had learned and could be referred to for future use.
Embroidery, silk and cotton threads on mattress ticking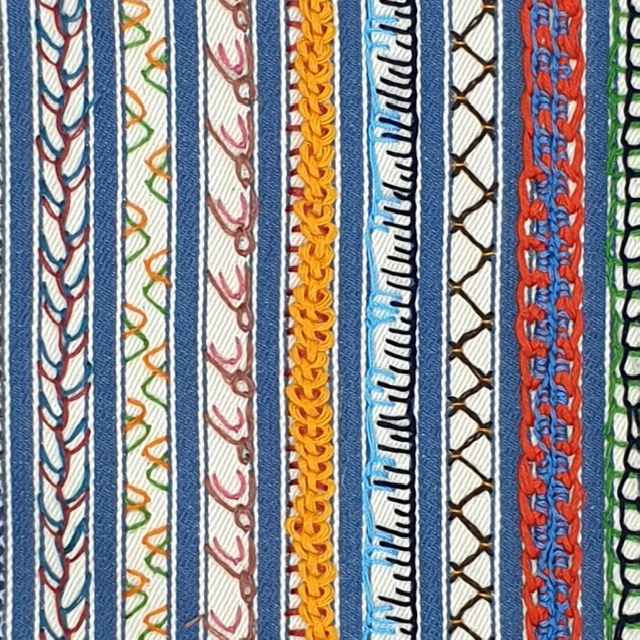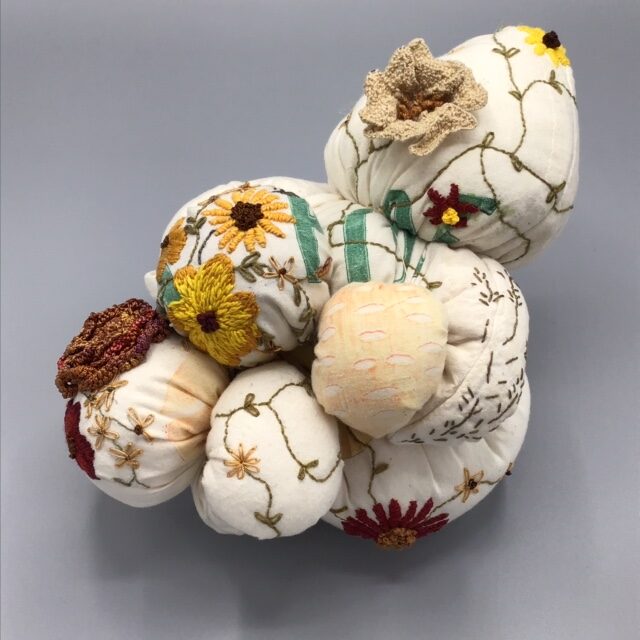 Flour bag, 2020
In the Great Depression women repurposed flour bags to make clothing or household items. This cluster is made from an old flour bag that had already been repurposed to clothing. I referenced an original 1930s embroidery transfer and applied traditional floral decoration to the cluster.
Embroidery, silk and cotton threads on cotton flour bag. (Origin of flour bag – Grenada)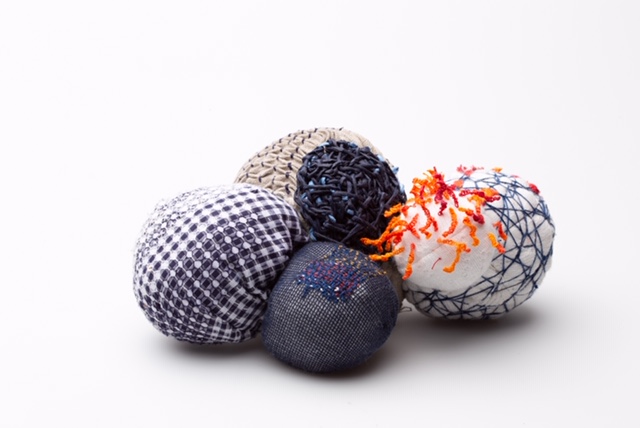 Thrift, 2019
This cluster explores the idea of thriftiness. It is made from a piece of thermal underwear stuffed with recycled upholstery stuffing. All materials used were stash scraps and threads and donations from friends.
Techniques used: random weave; random weave with paper yarn; smocking; darning; drizzle stitch; and the gingham embellishment uses a stitch known as "Chicken Scratch", a hand stitch made popular in the Great Depression – a simple and inexpensive, yet effective, way to decorate gingham.
Rachel is a member of the Society for Embroidered Work and is keen to promote the message that Stitched Art is Art.
Exhibitions and Collaborations
Fishy Tales (a collaborative project), Festival of Quilts, NEC Birmingham, August 2023
Stories in Stich, textiles2020. Espacio Gallery, London, April 2022
Surface and Depth – The Society for Embroidered Work exhibition for Rome Art Week 2021, Palazzo Velli Expo, Rome, October 2021
textiles2020: the show. Espacio Gallery, London, December 2020
Sewn Antidote. Contributed to a collaborative textile artwork on reflections to the first lockdown of the COVID pandemic conceived and stitched together by Lara Hailey. Accepted as part of the Victoria and Albert Museum's textile collection 2020
In Transition, Group Show, CityLit, February-March 2020
Construction Sites, Group Show, CityLit, July 2019
Instagram: @rachelgillardjones